Behold! The Stinger!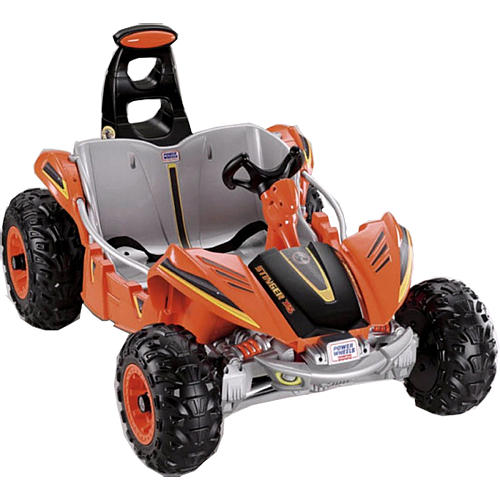 Saturday is the triplets third birthday and we spent a good bit of the morning putting together this little bit of high-octane fun while the kids were away at pre-school. I had things to do, so I left Jason to put on the finishing touches while I ran around picking up dry cleaning, buying party favors and various and sundry other mundane tasks. By the time I got back, he'd already hidden it away from curious little eyes to ready it for a surprise unveiling at their birthday party on Saturday. I was a bit disappointed not to see the end result of our handiwork, but forgot all about it in the rush of the day.
Tonight, after we'd gotten everyone bathed and in bed, he wordlessly nodded toward the downstairs garage. Flicking on the light, we both gazed in awe at The Stinger in all its blinding orange glory.
"How badass is that?" Jason asked reverently.
"Pretty badass," I replied, grinning. "Have you tried it out yet?"
"Nah… the weight limit is 135."
I love that he knows that. It means he's enough of the kid to think about taking a joy ride in the boys' car, but responsible enough to have checked the manual before accidentally breaking it into a million pieces two days before their birthday. If there is a more perfect man out there, I haven't seen him.