And before you ask…no, I'm not referring to myself in the title. Although, I suppose the moniker is applicable. No, I'm posting tonight because I hit a home run with a gift I gave my mom today, and just had to share an awesome little product that I've used for years, but is apparently not as well-known as it should be.
After I gave my mom the Beachcomber Shawl that I miraculously churned out in 6 short days of frantic knitting (worked in between wiping bottoms and folding laundry, so it looks like it was knitted by a highly distracted 8-year-old), I gave her a little gift-tin of Rosebud Salve. I thought she might enjoy it, since I'm pretty sure I have her to thank for my propensity toward chapped lips and sandpaper hands. Well, she was more appreciative than I expected. In fact, she actually gasped and said she couldn't wait to show her brother and sister what I'd given her.
"They won't believe you found this after all these years!" she exclaimed happily.
"You mean you've used this before?" I asked. Here I was thinking I'd practically invented the stuff, and she proceeds to tell me that growing up in the years prior to the discovery of antibiotics, Rosebud Salve had functioned as the closest thing people had to medicine. It was used for minor cuts, burns, and general skin complaints due to extreme heat or cold. ***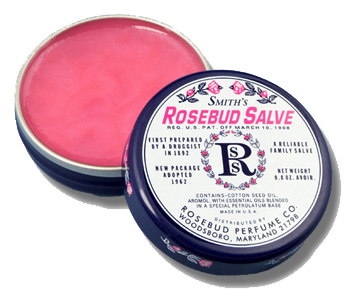 I don't know about you, but anything that's been awesome for over 100 years deserves to be on your list of staple items. I keep a stockpile on hand at all times, because you never know when a chapped lip will strike. It's also fantastic for cracked cuticles, chapped hands, rough heels and elbows, and helps sooth most minor cuts, scratches and burns. If it did laundry and wiped bottoms……………….
Whoops! Sorry for the pause there, but I was lost in a happy daydream. Anyhow, you can find it on Amazon by itself or in the cutesy tin I gave mother. Throw out the Carmex and give your Chapstick the boot. Once you try this stuff, please feel free to come back and thank me for the awesome recommendation. I promise not to say I told you so.
***I'd just like to point out that having a mother who lived through the Great Depression made typical teen complaints absolutely impossible. "But mama, EVERYBODY has a [insert overpriced fad item here]" was met with a snort of derision followed by a listing of what she got for Christmas in 1934 — a peppermint stick (still her favorite candy), her own tin cup (so she didn't have to share with her brothers and sisters at meal times) and a rubber ball (hands down the best toy you can ever present to any kid, male or female). On the bright side, I do appreciate the little things more. In fact, when I say my prayers of thanksgiving, I have to tell myself that God probably doesn't need to be reminded of how much I appreciate toilet paper and central heating. But occasionally I throw that in anyway, because I'd hate for Him to think they were optional for me. Thanks for the added quirks, Mom!!!