Well, it finally happened. I finished Mama's Purple Socks and managed to get them to UPS just in time for a March 4th delivery date — her 81st birthday. I asked that she send me a picture of her in her finery, and she was most obliging, donning not only her red pants (obligatory) but also the Beachcomber Shawl I whipped up for her at Christmas. Doesn't she look fabulous?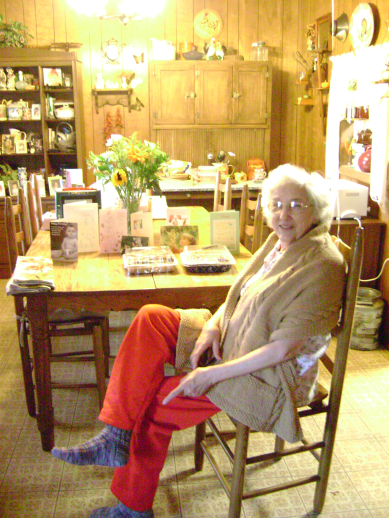 I have to thank my sister for the pic courtesy of her cell phone, and appropriately everything is bathed in the soft, golden glow of home. I don't know what made them pick the dining room table as backdrop. But I can tell you that my sister is standing in the living room near the huge recliner where my dad held court after a long day on the job site. Through the door on my mother's right is her galley kitchen, where hot biscuits were mashed with Golden Eagle syrup creating something sticky, messy and wonderful.
The table wasn't just a place for food to be served, but a spot for creation and contemplation. There's where I made my 6th grade topographical map of the United States, using homemade play dough and loads of tempera paint. I can hear the whump, whump, whump of a bolt of cloth being unwound and the delicate crinkle of a well-loved pattern being sorted out and pinned — the excitement of putting it all together almost (but not quite) outweighing the satisfaction of the finished project.
How many problems were solved over fresh tomatoes served up on white bread with a smear of mayonnaise? How many life choices were weighed and measured over cups of coffee and glasses of sweet tea? So many wonderful memories were made around that table — always with this tiny, smiling woman in the center of it all.
I could dwell on this picture for ages with each little element evoking another memory and another story. But I think I'll keep the rest to myself. This picture may not be magazine quality, but it's priceless to me.